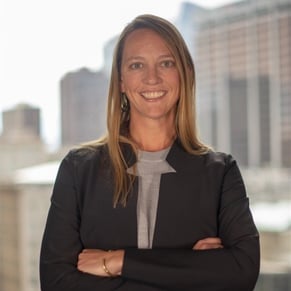 Surface Tech is pleased to announce the addition of Stacie Steel, PE, to its sales team. She brings a high-level of expertise and experience that producers in the region will find extremely beneficial.
Stacie offers a depth of experience in asphalt and concrete pavements. She has provided infrastructure-related civil engineering and project management consulting services to both public and private sector clients for the past 20 years.
Stacie's technical expertise centers around all things pavements: Structural design, materials design and specifications, sustainability, life-cycle cost analyses, pavement management, preservation and rehabilitation, QA/QC, materials testing, and forensic evaluations.
Throughout her career, she has worked on paving projects for many national commercial retailers, municipalities, and airports. Stacie has proven leadership and organizational capabilities, as evidenced by earning the President's Choice Award from the WTS Colorado Chapter early in her career. She currently serves on the WTS Puget Sound Chapter's TransportationYOU Committee, and is dedicated to ensuring access to local outdoor recreation opportunities serving on the Board of Directors for the Lonesome Lake Preservation Group.
To learn how Stacie can apply her experience and knowledge to your next paving project, contact her here.