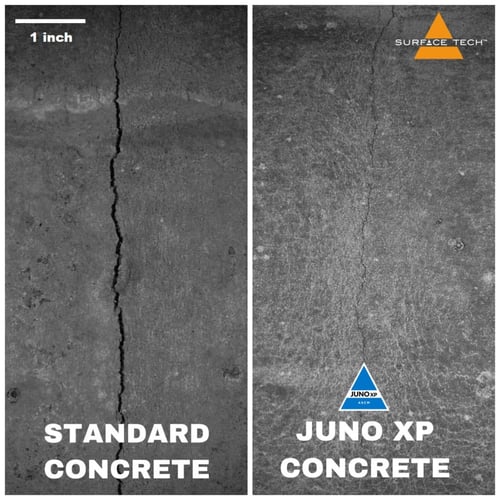 You want crack resistance? We got it!
Fly ash, slag, silica fume — stand back. You've got extreme competition as an alternative supplementary cementitious material (ASCM).
If you're looking for a product that can partially replace traditional cement in your next project, and you want a finished placement that can go the distance through all types of punishment, look to JUNO XP.
In a recent cracking test, we put JUNO XP to extreme conditions. Imagine 100°F and 32° relative humidity for 48 hours.
"Concrete has to crack under these conditions. It has no choice," says Jon Belkowitz, PhD, Surface Tech's Chief Technology Officer for concrete. "But we found JUNO XP dramatically restrained the amount of cracking that occurred."
In a wide range of applications, JUNO XP is a proven ASCM that can partially substitute traditional cement binders without sacrificing performance. More importantly, JUNO XP can reduce the cost of the mix and it's easy to adopt. It's a powder that you easily incorporate into any conventional dispersion system — silo, hopper, supersacks, bags and dissolvable bags. Ease-of-use is one more feature that separates JUNO XP from other new technologies. But the big difference can be seen in performance over time and under a wide range of environmental conditions.
"With JUNO XP, we're seeing much less or no cracking at all in real-world applications," said Belkowitz. "In this recent test, we recreated an extremely tough environment, and we saw a dramatic difference between concrete made with JUNO XP and a traditional mix."
For detailed information on JUNO XP's Ultimate Cracking Test and other product information, contact us.