Get ready — a unique new solution for bottom-up reflective cracking hits the market soon!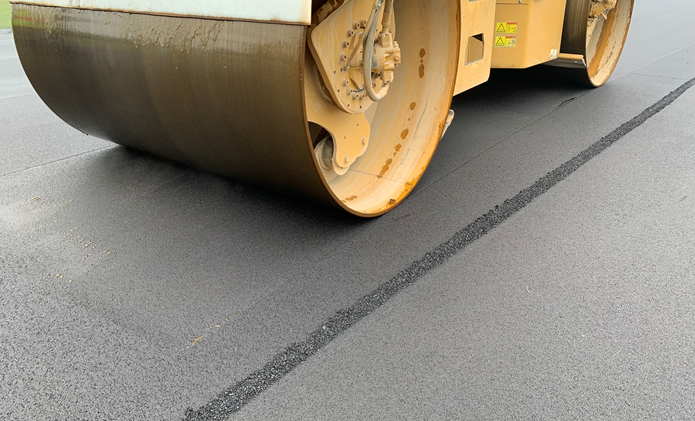 Within the next 30 days, Surface Tech will introduce a new Reflective Cracking Relief Interlayer (RCRI) product that can revolutionize the treatment of pavement suffering from bottom-up reflective cracking. If cracks in your aging concrete or asphalt concrete pavements are giving you constant headaches, stay on the lookout for the announcements. Here's why.
The typical treatment for restoring deteriorating Portland Cement Concrete (PCC) and asphalt concrete (AC) generally employs a hot mix asphalt overlay. Unfortunately, due to the mismatch between the flexural strengths of the underlaying pavement and the asphalt overlay, cracks tend to reappear within three to five years.
Asphalt rubber interlayers, fabrics and other interlayer methods have been used to address the problem, and the performance of these methods has varied greatly—especially in cold climates.
"Early 2019 testing performed by the University of California-Berkley Pavement Research Center (UCPRC) on ACE XP Polymer Fiber reinforced asphalt mixes led the Surface Tech development team into the lab to develop a novel and unique RCRI solution utilizing aramid fibers to reduce the need for polymer modified binders," said Phil Blankenship, P.E., a member of Surface Tech's Advisory Committee and principal of Blankenship Asphalt Tech and Training, PLLC. Blankenship led the research and development of Surface Tech's new RCRI product.
UCPRC found that typical asphalt mixes reinforced with ACE XP Polymer Fiber can improve the mixture fatigue life by over 90 percent at 600 microstrains and 200 percent at 900 microstrains. Further development by Surface Tech has led to a new RCRI product reinforced with aramid polymer fibers that can provide fatigue life improvement of more than 700 percent at 2000 microstrains.
"These results are significant, because most bottom-up, or reflective cracking, falls in the 600+ microstrains range," said Blankenship. "The added performance built into this new RCRI product provides improved service life for years of crack-free performance."
In addition to providing vastly improved crack resistance, Surface Tech's next-level RCRI solution also reduces costs by eliminating the third-party contractors typically required for other geosynthetic interlayer products. Instead, Surface Tech's new RCRI solution is a plant-made and paver-laid interlayer keeping the paver in control of tight construction schedules.
To successfully protect against reflexive cracking, the RCRI must be designed to meet a high-strain beam fatigue test and a rutting test and be combined with a high-quality asphalt overlay to protect the interlayer from direct traffic.
"Today's mixtures do not have to rely on just polymer in the asphalt binder to create a highly crack resistant interlayer product," said Blankenship. "Surface Tech's new RCRI solution provides greatly enhanced performance and provides an RCRI system that can be engineered for all parts of the U.S., no matter the availability of binder and other raw materials."
Surface Tech's new RCRI product hits the market in 30 days