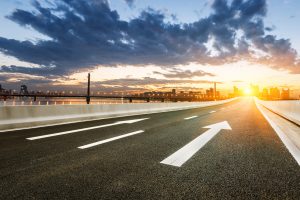 Collin Browning of BreakThrough Techologies LLC (BTt), master distributor for Surface Tech, sees ACE XP success stories throughout North America, including the recent conclusion of a controlled test for a county in Ohio.
"The Road Superintendent of Butler County was amazed to see the results of a year-long side-by-side comparison of control no-fiber vs. ACE XP polymer fiber reinforced asphalt," said Collin.

Collin is co-partner of BTt. The company, headquartered in Columbus, Ohio, oversees Surface Tech's north American distribution effort and offers unique value-added products and sales-related services throughout the United States and Canada. In addition, BTt provides full engineering and quality assurance/control services to deliver certified turn-key projects.
In July 2015, BTt and Surface Tech performed a county road overlay field comparison project for Butler County, OH. After seeing a presentation on the benefits and value offered by ACE XP, the Butler County Road Superintendent wanted to see for himself how effective the fiber additive could be for their asphalt overlay program.
For the comparison, Butler County used a road with moderate to severe transverse and alligator-type cracking. The main form of maintenance done prior to the test overlay had been crack sealing as needed. A quarter mile section of a two lane roadway was targeted. The control lane was overlaid with 1.5 inches of asphalt surface course without the fiber additive while the opposite lane received 1.5 inches of asphalt surface course with ACE XP.
In August 2016, Collin and the Road Superintendent returned to the test section to see how well the ACE XP side of the road held up. Over the past year, the crack underlying the asphalt on the control section had reflected up and through the new asphalt overlay, but not on the section where ACE XP had been used.
"The Superintendent said he gets many salesmen in his office trying to sell him on products that never seem to work as advertised, but the Surface Tech results really impressed him," Collin said. "He's an ACE XP believer now."