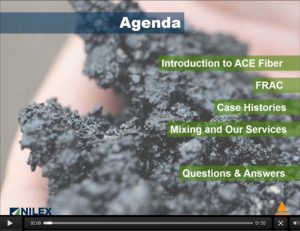 As the interest in ACE Fibers and FRAC (Fiber Reinforced Asphalt Concrete) continues to grow, Surface Tech distributor, NILEX, recently hosted a webinar, now available on-demand, entitled The Asphalt Revolution: The Key to Pavement Strength and Extended Service Life, which addresses many FAQs about ACE Fibers.
During the 45 minute webinar, NILEX provides an overview of the purpose of ACE Fibers, the research and methodology utilized, case study summaries from around the US, and price comparisons with and without ACE Fibers.
"There are a lot of stressors that the top layer of asphalt is exposed to, from both above and beneath the top layer. Even if conditions are perfect at the time of the installation, grades change over time including weak soil, drainage and temperature fluctuations. This is where ACE Fibers help greatly extend the life of asphalt," said Pat Tyl, NILEX representative and webinar host. "Traditional asphalt is basically rocks and glue, while fiber-reinforced asphalt provides 'roots' that grab onto the asphalt particles."
ACE Fibers uses aramid fibers to address the two major distresses affecting asphalt performance today; cracking and rutting. Doing so also dramatically improves the treated roads' life expectancy.
When ACE Fiber is mixed into asphalt, it disperses over 19 million Aramid fibers throughout each ton of mix to provide 3-dimensional reinforcement that increases the asphalt's resistance to reflective cracking, rutting, fatigue and increased life expectancy.
To view the webinar, please visit https://attendee.gotowebinar.com/recording/823398247182443521 For more information on ACE, visit http://surface-tech.com/asphalt-ace-fiber/.