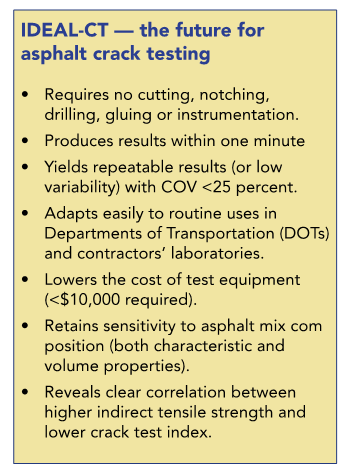 Asphalt cracking tests provide critical information on the viability of asphalt mixes, but a critical need exists for a more practical cracking test for routine use. To meet this challenge, researchers Fujie Zhou, Soohyok Im, and Lijun Sun at Tongji University in Shanghai, China, and Tom Scullion at the Texas A&M Transportation Institute, developed the indirect tensile asphalt cracking test (IDEAL-CT), a method that we predict will achieve widespread adoption.
"The IDEAL-CT provides clarity on what is going on with samples," says Joe Dennis, Surface Tech Vice President/CTO for Asphalt. "Since cracking is now the primary reason for asphalt remediation, we view the IDEAL-CT as a major advancement in ensuring that asphalt pavement meets standards that minimize cracking and result in a longer life. The test's reliability and low cost, as well as the time-savings it delivers, has the potential to revolutionize asphalt testing industrywide."
The test can run at room temperature and requires no instrumentation, cutting, gluing, drilling or notching of specimens, nor in-depth training for testing personnel. Best of all, it produces results in less than one minute.
Moreover, the IDEAL-CT can be performed with ordinary indirect tensile strength test equipment, and it's sensitive to key asphalt mix components and volumetric properties, including reclaimed asphalt pavement, recycled asphalt shingles, asphalt binder type, binder content, aging conditions and air voids. In other words, IDEAL-CT is a practical solution for testing routine uses in the process of mix design, quality control (QC) and quality assurance (QA).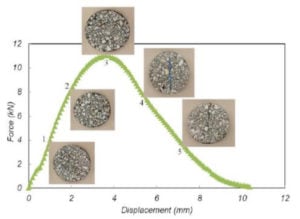 IDEAL-CT is gaining traction already. It's currently working its way through ASTM committee ballot shepherded by ASTM 04.26 sub committee and Phil Blankenship, P.E. Surface Tech has embarked on several test cases utilizing ACE Fiber mixes. A test case in Texas has recently yielded reliable results. Further testing with and without ACE Fiber will occur in concert with the Kentucky Transportation Cabinet (KYTC) in October.
For information on IDEAL-CT research test procedures, technical findings and test case results, contact us.