A recent field test for a Kentucky roadway shows improvements to the in-place asphalt modulus when adding ACE XP Polymer Fiber to the pavement section as compared to a non-reinforced control section. This important test seeks to modify the Mechanistic-Empirical Design Guide (MEPDG) to accept asphalt additive data since the MEPDG relies heavily on asphalt modulus inputs to model the asphalt pavement mix design.
The MEPDG design method provides a more comprehensive method for predicting the performance of a particular design mix. MEPDG utilizes software that organizes a vast array of input data in modules such as traffic, climate and mix specifications and performs calculations to produce a trial design.
"Although this design approach has been around for a while, implementation and DOT adoption has been slow, mostly because the design software is best used when loaded with state-specific asphalt data," said Joe Dennis, Surface Tech's Chief Technology Officer for Asphalt. Testing of state-specific data is expensive and takes time to develop. Currently, states like Kentucky, Texas and Colorado routinely utilize the MEPDG system.
Although it includes a comprehensive array of input modules, the software does not include a means for computing the improvements available when ACE XP or other additives are added to the mix. Unlike the commonly used AASHTO '93 Guide that primarily relies on empirical observations of pavement performance, MEPDG combines a wide range of road stress "mechanistic" data collected from the Long-Term Pavement Performance Program with empirical data to predict the level of damage over time.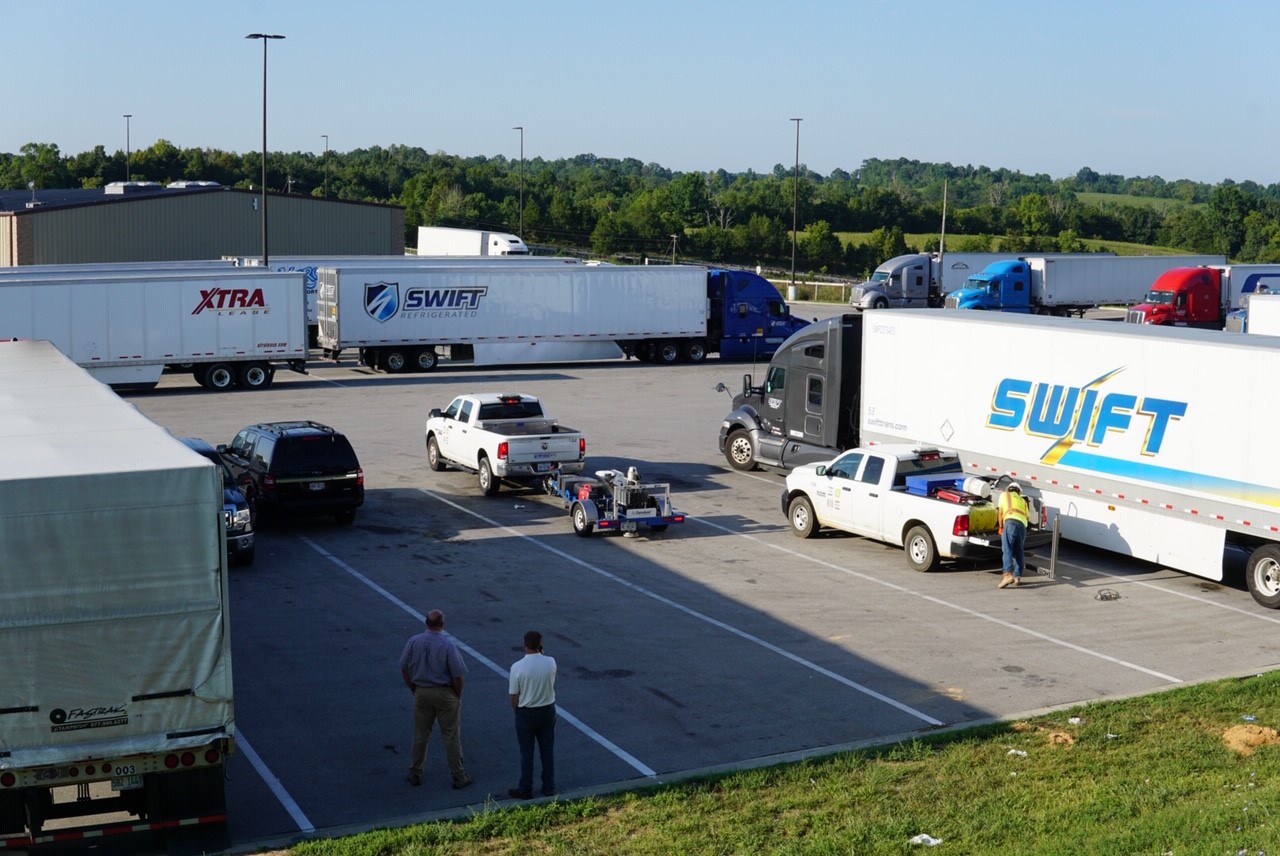 To test the ability of MEPDG to incorporate additive data, Surface Tech, in concert with Site Supply, Inc., hired S&ME of Louisville, KY to perform Falling Weight Deflectometer (FastFWD) testing on a four-year-old section of northbound US-31W/US-60 in Louisville. The proposed pavement section included a three-inch ACE XP reinforced asphalt base and a 1.25-inch ACE XP reinforced asphalt surface layer over an existing seven-inch concrete base. The southbound lane served as a control, with no ACE XP added to the mix.
S&ME's FastFWD is a non-destructive testing device that quickly and efficiently evaluates pavement structural conditions. The FastFWD is used to quantify pavement layer characteristics, evaluate the pavement structural capacity, and provide overlay recommendations through the analysis of the data. FastFWD results provide quantitative data for pavement designs, establish pavement performance and estimate remaining pavement life.
"Using S&ME's Falling Weight Deflectometer (FastFWD) field testing, our data shows in-place modulus improvement of ACE XP reinforced asphalt from 13% to 425% compared to control sections," said Dennis.
"This data is very important and allows us to suggest very conservatively a 10% to 15% improvement to all existing modulus data at all frequencies and temperatures when adding ACE XP to the pavement modeled in MEPDG."
The Kentucky field test provides a good foundation for providing new ways to input additives like ACE XP to the MEPDG system.
"More work will need to be done in order for this technology and other additives to have an easy way to add the benefits into MEPDG, but this is a start."
For more information on the field test, contact Joe Dennis.