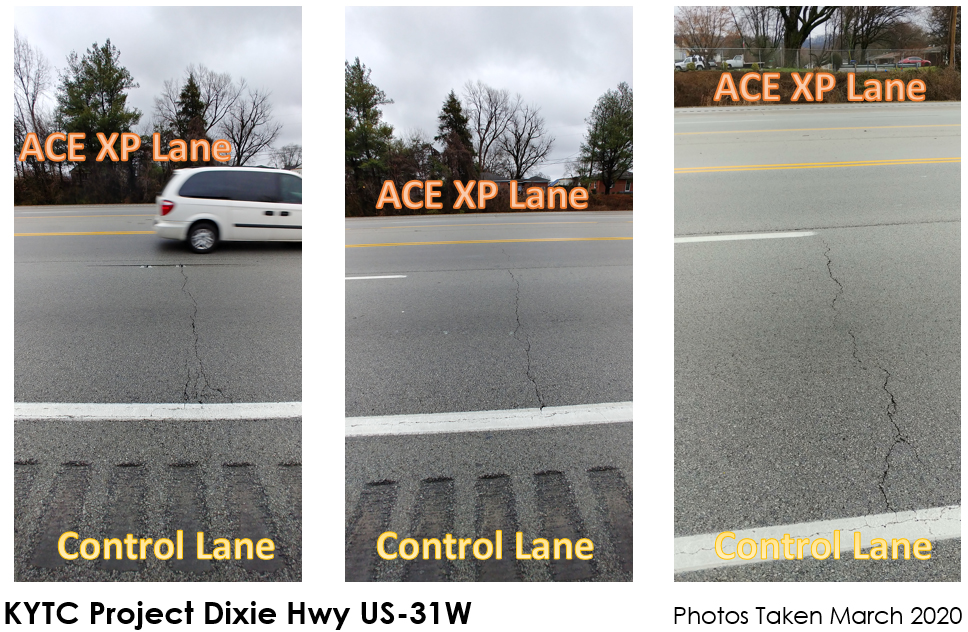 Jordan Sandquist, Quality Control Manager of Hall Paving in Louisville, KY, believes in the superior performance that Surface Tech's ACE XP® para-aramid fibers provide to his paving projects. He sees it not only in the longer life the fibers provide to the pavement, but also in the testing numbers.
"I haven't found anything that compares to ACE XP®. I've compared it to the best testing numbers that others offer and compared it to testing numbers that I have run myself, and none have approached ACE XP®."
Sandquist points out how additives often affect the properties of asphalt. When using additives, if the Gmm (Maximum Specific Gravity) goes up, the density decreases. However, with ACE XP® he sees an increase in the density even though the Gmm patterns higher. He also appreciates how easily ACE XP® reinforced pavement goes down. His crews have no complaints.
"I'm prone to say adding ACE XP® is not just a theoretical good thing. Now there's proof. To have something like this that you can show to municipalities, and when they see how well it performs, compared to other paving options, it's evidence. It's not just me making a claim."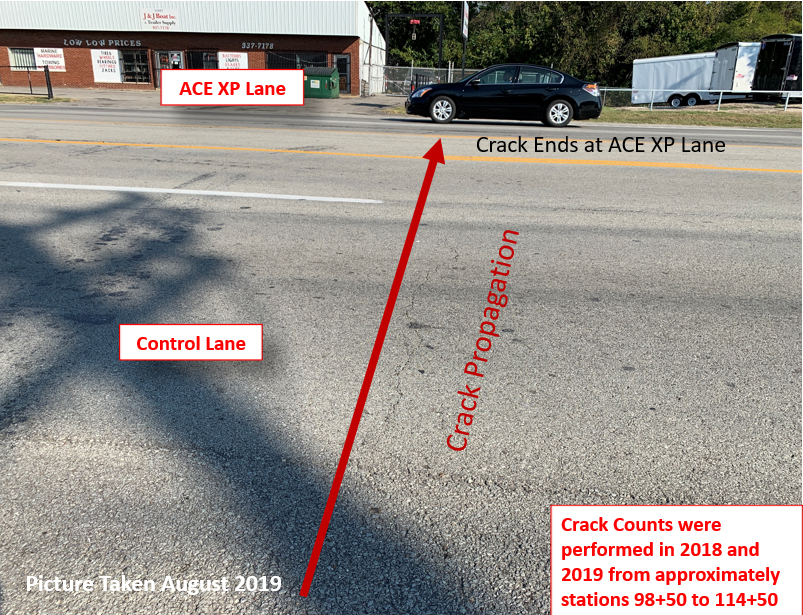 As for long-term performance, Sandquist can point to several projects. In 2015, the company paved a couple-mile test section on heavily traveled Dixie Highway (US31). A one-mile section served as a control, and portions of the other were reinforced with ACE XP®. The ACE XP® overlay section turned out so well, the University of Kentucky's Transportation Center will reference it in an upcoming white paper.
"The first year out there was minimal cracking in both sections. They both looked the same. But from there on out, the cracking on the ACE XP® reinforced section basically stopped. The difference is now astronomical. It proves how good this product is for overlays and for base."
Another project paved in 2015 involved firming up an overlay on a road leading to a section of The Parklands for the City of Louisville.
"It's doing well compared to the other side in a residential area that was paved the spring after, without ACE XP®. That side is already showing wear, even though the roadway leading to the Parklands experiences more traffic with lots of turns at higher speeds."
The Kentucky Transportation Cabinet (KYTC) has recently begun using ACE XP® on select projects, and Hall Contracting has increased its ACE XP® reinforced paving to above 30,000 tons per year on Louisville city streets, with a goal of using even more RAP (recycled asphalt pavement) on Louisville city streets with Surface Tech's new REARM HR™ technology.
"We've worked with Phil Blankenship and BATT Labs to develop innovative paving solutions. He's the godfather of Strata and developer of Surface-Tech's new ARMI Interlayer, and Hall has provided more of this type of work in Kentucky than almost any other contractor. Phil always promotes a different perspective and brings new options our way."
Working with BATT Labs and Surface Tech aligns neatly with the company's goal of developing a reputation for providing a high-quality mix that adds minimal cost.
"Several years ago, we set out to find innovative solutions that would help us compete better. We told ourselves, 'Let's be the most innovative and have the best asphalt.' We now have videos on trucks to show the results we're getting. Sometimes data is hard to quantify, but actually seeing firsthand results with ACE XP® versus traditional, it's hard to argue with that."