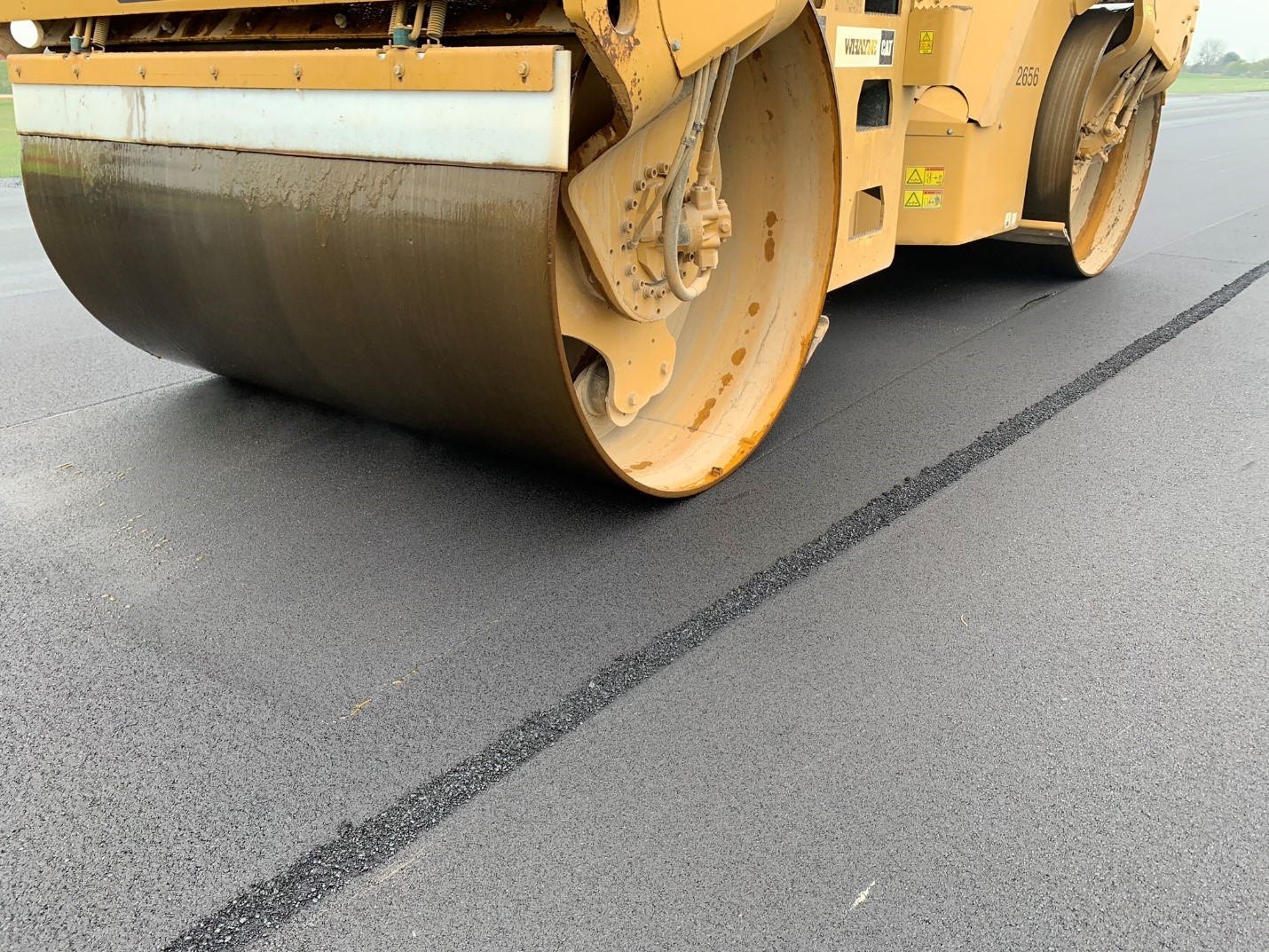 For severe asphalt cracking or asphalt overlays over Portland cement concrete (PCC), Surface Tech has succeeded in developing a revolutionary new solution that vastly improves crack resistance. Aramid Reinforced Mix Interlayer (ARMI™) provides 7x greater crack resistance as compared to standard asphalt mixes.
ARMI™ utilizes one of the strongest man-made fibers in existence — aramid. That means the same fibers that provide armor for soldiers can now armor your next asphalt pavement Interlayer to hold its ground even after the first one to two surface layers require replacement.
The standard one-inch thick interlayer made from this next-level product can provide unparalleled crack resistance, because it is engineered every time to meet the product's specifications in both IDEAL CT for cracking and Hamburg Wheel Test for rutting, boosting your pavement's particular performance needs and expectations.
Best of all, it's engineered with a special asphalt mix design and liquid binder that can be hot-mixed and hot-laid to stay in place. It withstands the extreme production temperatures of asphalt without change, while producing a three-dimensional reinforcement matrix that reinforces the interlayer against reflective cracking, thermal cracking and surface crack water penetration.
All of the advantages of this superior interlayer product add up to pavements that last longer and reduce costly maintenance and replacements over time. Combining ARMI™ with a surface-mix reinforced with ACE XP Polymer Fiber™ provides the most crack resistant solution on the market today.
ARMI™ attacks challenging projects in poor condition, even those that may have required full-depth reclamation in the past may now be candidates for an ARMI™ Interlayer and overlay solution instead, which saves money.
Put ARMI™ to the test today!
Surface Tech has developed the Good, Better, Best & Test Program as a means for testing ARMI™ on your worst cracked pavement. Our 5-Step program begins with a Surface Tech Asphalt Audit to help you better understand the performance capabilities of the existing mix designs used in your overlay programs.
In most overlay projects today, cracking is the controlling distress. So, it is important to match the right Aramid Pavement Solution with the cracking severity. Once the cracking severity (Moderate, Severe and Very Severe) is established, the correct Good, Better & Best solution can then be selected based on both performance and budget expectations.
Stay tuned for our next blog, where we'll provide more details on the test program. If you want to get started with ARMI™ today, contact Joe Dennis.