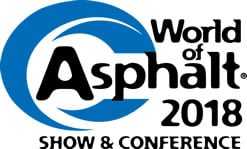 Representatives from Surface Tech will join thousands of industry professionals at the World of Asphalt convention in Houston from March 6-8. The World of Asphalt is the leading trade show for the aggregate, asphalt, pavement maintenance, and traffic safety industry sectors.
"We are looking forward to reconnecting personally with many industry colleagues at World of Asphalt and sharing exciting developments from Surface Tech," said Joe Dennis, VP/CTO of Surface Tech's Asphalt Division. "Our ACE Fiber technology continues to deliver impressive results alongside our innovative Quality Control (QC) program's automated dosing equipment line."
When ACE Fiber is mixed into asphalt, it disperses over 19 million Aramid fibers throughout each ton of mix to provide 3-dimensional reinforcement that increases the asphalt's resistance to reflective cracking, rutting, fatigue and increased life expectancy.
For more information visit http://surface-tech.com/asphalt-ace-fiber/