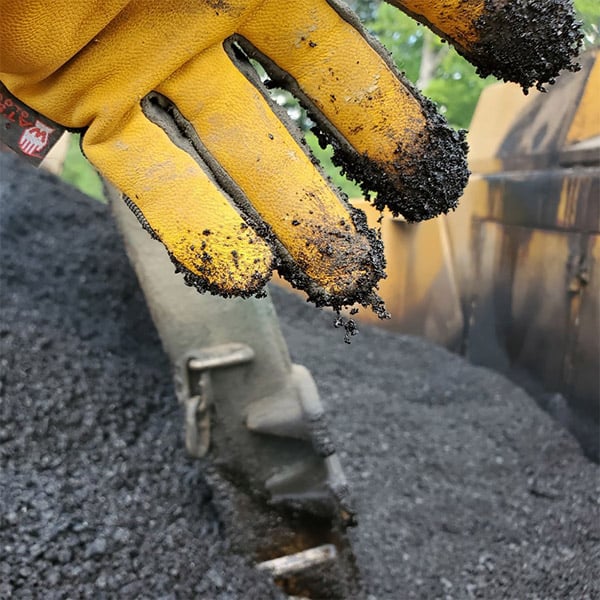 All Roads Construction knew it would need top-notch technology to meet tight specifications for paving an expansion project at the Fraser Port Authority Terminal in Vancouver, BC. The contractor chose a Millimeter GPS System from Topcon Positioning Systems to ensure accurate paving in tight spaces. And to ensure that various mix designs could stand up to all kinds of weather paving conditions, the company recommended reinforcement with ACE XP Polymer Fibers®.
The 120,000-ton asphalt paving project began in 2019. It will expand the terminal by 15 percent, create a new overpass on Centennial Road, and reconfigure Waterfront Road to link Canada Place to Highway 1.
A tight timeline, coupled with the need to keep as much space available as possible for shipping containers, places extreme limits on the amount of space crews can work — an average area of 7,500 square meters (80,700 square feet). All Roads must also meet intensely tight specifications, including a 5-millimeter (¼-inch) tolerance for elevations and cross falls of less than 0.5 percent.
Moreover, the port's mix designs call for a 19 mm nominal Superpave mix for the lower asphalt courses and a 12.5 mm nominal surface course Superpave mix, both with design ESALs greater than 30 million. To make matters even more challenging, winter weather creates heightened risks for transporting the raw materials. To offset this risk and enable crews to pave in appropriate weather windows, All Roads suggested the use of ACE XP Polymer Fiber® reinforcement for certain portions of the pavement structure on the project.
The project utilizes multiple mix designs with three different binders — PG64-22, PG70-22 and PG76-22. Extensive testing of mixes reinforced with ACE XP demonstrated that a single dose of 65 grams per ton of reinforcement provided an equivalent asphalt mix to using PG70-22, and a double dose of 130 grams per ton proved an equal alternative to using PG76-22 polymer modified binder.
To ensure the accuracy of the fiber use, All Roads purchased the Sentinel fully automatic dosing system from Surface Tech. A hopper system accurately controls the dosing of the fibers, and a programmable logic controller interfaces with the variable speeds of the asphalt plant.
All Roads is the first paving company in Canada, and among the first in North America, to utilize LPS robotic stations on an asphalt paving job. The company's interest in the latest technologies, like LPS and ACE XP, has long set them apart.
For more information on this project, visit https://theasphaltpro.com/articles/tight-timeline-tolerances-on-port-project/
To learn more about the variety of asphalt paving solutions available from Surface Tech, visit https://surface-tech.com/asphalt-solutions/